CHRISTMAS TREATS
From Michelle's Kitchen
Although I don't make a lot of cookies for our family, (we have plenty of grandma's that do that for us), I do enjoy baking a batch or two just to get into the spirit of the season. The recipes below are some of our favorites.
And to get and keep you in the Holiday spirit I've also added a few more family favorites in addition to cookies!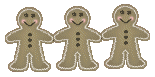 COOKIES
Crescent Cookies:

Ingredients:
1 cup butter;
1/4 cup sugar;
2 cups sifted flour;
1 cup chopped nuts;
1 teaspoon vanilla;
confectioners sugar.
Beat the butter and sugar until it has a creamy texture, add the vanilla. Work in the flour and nuts. Form into crescent shapes. Place on a greased cookie sheet and bake at 300 degrees for 25 minutes. Remove from sheet immediately after baking. Let them cook and sprinkle with confections sugar.
Rum Balls:

Ingredients:
2 1/2 cups crushed vanilla wafers;
1 cup powdered sugar;
2 tablespoons cocoa;
1 cup chopped nuts;
3 tablespoons light corn syrup;
1/4 cup rum, (bourbon can be substituted).
Mix the vanilla wafers and powdered sugar together. And nuts, syrup and rum, mixing well. Shape into small balls and roll in the powdered sugar.
Spritz Cookies

You will need a cookie press for these.
Ingredients:
1 1/2 cups butter or margarine;
1 cup sugar;
1 egg;
2 tablespoons milk;
1 teaspoon vanilla;
1/2 teaspoon almond extract;
4 cups flour;
1 teaspoon baking powder.
Preheat over to 400 degrees. Cream the butter and sugar, add egg, milk, vanilla and almond extract, mixing well. Stir together the flour and baking powder and gradually add to the creamed mixture, mixing until you get a smooth dough.
Place the dough into the spritzer and press cookies onto an ungreased cookie sheet. Add your favorite "Sprinkles" and bake for 6-8 minutes. Cool on rack. You can also add food coloring to the dough for different colored batches of cookies.
Snowballs

Ingredients:
1 cup butter,
1/4 cup sugar,
2 cups ground pecans,
2 cups flour,
powdered sugar.
In a mixing bowl, cream the butter until softened. Add the sugar, pecans and flour and mix well.
Shape mixture into balls, use about 1 tablespoon for each ball. Bake at 300 degrees on an ungreased
cookie sheet for 45 minutes. Roll in powdered sugar after removing from oven and once again when cooled.
Cookie Cutouts

This recipe is for a basic cookie dough. You can decorate with sugar, nuts, fruits or any type of baking toppings. Roll them out and using cookie cutters you'll have a wide variety of cookies. (This is a great easy recipe for holiday cookies.
Ingredients:
2 3/4 cups flour;
2 teaspoons baking powder;
1/2 teaspoon salt;
1/2 cup butter or margarine;
1 cup sugar;
2 eggs (beaten);
1 teaspoon vanilla;
1 egg yolk;
1/2 cup milk.
Sift together: flour, baking powder, and salt. Cream the butter. Slowly add sugar and the creamed butter until it is light and fluffy. Add the eggs and mix well. Add vanilla. Gradually add the flour mixture mixing well after each addition. Chill in refrigerator until firm enough to roll out, about 2 hours.
When dough is firm enough to roll out, mix the egg yolk and milk. Roll and cut dough to desired shapes, then brush with the yolk mixture. Decorate before baking.
Bake at 400 degrees for about 10-12 minutes on an ungreased cookie sheet.
Drink Recipes
Hot Mulled Cider

Ingredients:
1/2 cup brown sugar;
1/4 teaspoon salt;
2 quarts cider;
1 teaspoon whole allspice;
1 teaspoon whole cloves;
2 cinnamon sticks;
dash of nutmeg.
Using a small piece of cheescloth, placing inside the spices, (allspice, cloves, cinnamon, nutmeg), and with a piece of string tie up the spice bag. In a saucepan, over medium heat, combine the brown sugar, salt and cider, add the spice bag and slowly heat mixture to a boil. Cover and simmer on low heat for 20 minutes.
Remove the spice bag and serve hot!
Christmas Morning Mimosa

3 cups Orange or tangerine juice made from frozen concentrate;
1 bottle (750 ml.) champagne.

In a pitcher mix the liquids. Serve over ice in a stemmed champagne goblet! (Optional, garnish with fresh strawberries, yummy)
Homemade Eggnog

1 small package vanilla pudding and pie mix (do not use instant);
1/2 cup sugar;
1 quart milk;
3 egg yolks, slightly beaten,
3 egg whites,
1 teaspoon vanilla;
1/4 cup brandy;
1 cup whipping cream; nutmeg to taste.
In a saucepan over medium heat add and mix the pudding mix, sugar and 1/4 cup of the milk, add the egg yolks, mix add remaining milk and mix. Stir constantly until mixture comes to a boil. Remove from heat and cool.
Beat the egg whites until stiff, add into the cooled eggnog mixture, add the vanilla and brandy, mixing in gently and chill for several hours. Before serving top your cup of eggnog with a spoonful of whipped cream and nutmeg!
To get a version of homemade eggnog that your children can make and enjoy, visit:
My Children's Recipes page.
FRUITCAKE by NINA (A Stroll Down Main Street)
1 cup water
1 cup butter
1 cup sugar
4 large eggs
2 cups dried fruit
1 teaspoon baking soda
1 teaspoon salt
1 cup brown sugar
2 cups of flour
1 tablespoon lemon juice
1 cup chopped nuts
1 gallon wine
Sample the wine to check for quality.
Take a large bowl.
Check the wine again to make sure that it is of the highest quality.
Pour 1 level cup and drink.
Repeat if you're not sure.
Turn on the electric mixer and beat 1 cup of butter in a large bowl.
Add 1 tsp sugar and beat again.
Make sure the wine is still okay. Cry another tup.
Turn off the mixer.
Break two legs and add to the bowl and chuck in the cup of dried fruit.
Mix on the turner.
If the fried druit gets stuck in the beaterers, pry it loose with a
drewscriver.
Sample the wine again to check for tonsisticity.
Next sift 2 cups of salt, or something. Who cares.
Check the wine.
Now sift the lemon juice and strain your nuts.
Add 1 table. Spoon. Of sugar or flour or something. Whatever you can
find.
Grease the oven.
Turn the cake pan to 350 degrees.
Don't forget to beat off the turner.
Throw one bowl out the window.
Check the wine again. Go to bed.
Who the heck likes fruitcake anyway?
~author unknown~
Thanks Nina for contributing this recipe! Happy Holidays

LINKS
[Recipe Index Page] [Steffen Family Homepage]