Halloween Treats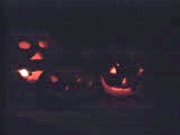 EASY POPCORN BALLS
Makes 2 dozen

4 cups sugar
1-1/2 cups light corn syrup
1-1/2 cups water
1 tablespooon salt
1 cup margarine or butter
2 teaspoons vanilla extract
6 quarts popped corn
Combine sugar, corn syrup, water and salt in a saucepan, cook over medium heat stirring until the
sugar dissolves. Cook, without stirring until syrup reaches a hard "half/ball like" stage, on a candy thermometer 250 degrees. Remove from heat, and stir in butter and vanilla.
Place popped corn in a large pan, pour hot syrup over top, mixing well. Grease hands with butter and
shape mixutre into balls, place on waxed paper to dry.
Witches Brew
1 quart *non-alcoholic Vodka
2 quarts 7Up
2 small cans (frozen) Lemonade
1 quart water
1/3 can (frozen) Orange Juice
1/3 bottle *non-alcholic Sloe Gin
Mix the above ingredients, adding more lemonade or water to taste or to fill bowl.
Add Dry Ice for a nice effect.
*You can substitute alcholic beverages for this recipe,
if you do so, please be responsible and don't drink and drive.


Baked Pumpkin Seeds
2 cups pumpkins seeds (right from your own carved pumpkin)
2 tablespoons vegetable oil
1 teaspoon salt
Preheat oven to 350 degrees. Rinse the seeds in cold water, be sure to clean off the stringy pumpkin insides.
Pat dry with paper towels. In a large bowl add the seeds, the oil and salt, mix well to coat the seeds.
Spread out evenly on a baking sheet, single layer. Bake approximately 12-15 minutes add more salt to taste.

Quick Apple Cider


Use your "clean" automatic coffeemaker. Fill with apple cider instead of water, add a
cinnamon stick or two, a few cloves and an allspice in the coffee basket. Brew as usual, serve hot.

Pumpkin Cake Roll
NEED: 3 eggs; 1 cup sugar 2/3 cup pumpkin; 2 tablespoons milk; 1 tablespoon lemon juice; 3/4 cup flour;
1 teaspoon baking powder; 2 tablespoons cinnamon; 1 tablespoon ginger; 1/2 teaspoon nutmeg; 1/2 teaspoon salt;
1 cup chopped walnuts.
With an electric mixer, beat the eggs on high for 5 minutes. Gradually add and beat in the sugar. Stir in, the
pumpkin, milk and lemon juice. In a separate bowl, stir the flour and spices then add and stir to mix well to the
other ingredients.
Spread in a well greased 15x10x1 jelly roll pan. Top with the walnuts. Bake at 375 degrees for 15 minutes.
Turn cake onto a towel and sprinkle with powdered sugar. At the narrow end, roll the towel and cake together and
cool to room temperature.
FILLING: 1 teaspoon milk, 1 cup powdered sugar, 4 tablespoons butter, 8 ounces cream cheese, 1 teaspoon vanilla
1/2 cup chopped nuts.
Mix above ingredients until smooth. Spread over cake and roll up. Refriderate for about an hour. Serves 8 or more.


Halloween Pie
1 large package instant vanilla pudding
1 16 ounce can pumpkin
1 cup milk
1/2 teaspoon ground nutmeg
1/2 teaspoon ground ginger
1/2 teaspoon ground cinnamon
1 4 1/2 ounce container of non-dairy whipped topping, thawed.
1 nine inch graham cracker crumb crust, baked and cooled.
COMBINE the pudding mix, pumpkin, milk and spices in a bowl mixing
until well blended. Add in 1 cup of the whipped topping. Spoon mixture
into the crust. Refriderate for about 2 hours. Before serving spread
the remaining whipped cream on pie.

Trick or Treat Craft idea!
What you need: Cardboard inserts from empty paper towel rolls, cut into thirds; some mixed candy; black or orange tissue paper, or any halloween wrapping paper; black or orange ribbon.
Wrap the cardboard with the tissue/wrapping paper, leaving about 1 inch at each end. Tie off one of with the ribbon, in the open end place your candy, tie off the other end and there you go... Halloween party favors! Kids love them.


MAIN RECIPE PAGE
e-mail me
This links has everything you'll need for Halloween, graphics, sounds, recipes, you name it. Check it out. Free Halloween Graphics
Check out my other fall and Halloween Backgrounds

Copyright &copy 1999-2008